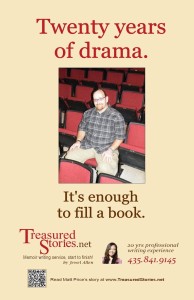 20 years. That's how long Matt Price has been involved with Grantsville High School's theater program. First, as a volunteer, then as the theater director/drama teacher.
And boy, does he have stories to tell.
For their 20th anniversary just this past week, the school put on a fabulous performance of Phantom of the Opera. At intermission, a friend told me he's seen Phantom on Broadway. "I can close my eyes and these kids sound just like the real thing," he said.
Congratulations, Mr. Price, on 20 years of dedication to kids and theater at Grantsville High!
Matt's Treasured Story:
I was in tenth grade at Grantsville High School and on the Esteem team, where we did process drama and improvisational theater about problems teens deal with.
The same week I joined, Bill Green (our adviser) said we're going on a field trip to see Les Miserables and eat at Training Table afterwards. I thought, "I guess I could sit bored for a few hours and get free food."
As I sat watching the musical, I was literally speechless. I was so affected watching these professional actors in a professional theater. Afterwards, Bill asked, "What do you guys think?" and I said, '"It's better than any movie I've ever seen!"
That day, I told myself, "I'm going to be a drama teacher someday."
Contact us
for a free consultation on how
you
can preserve your Treasured Stories.