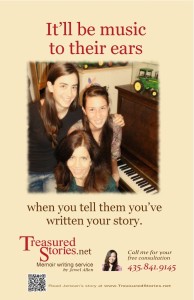 I've known Jenean Christensen since my kids started taking piano lessons from her several years ago. It's a mark of a good teacher when my almost-15 year old son plays piano "just for fun". Or that my oldest daughter, who could have quit lessons when she reached the level of accompanying singers at church, loves taking lessons so she can play classical music on the off-sports season.
When I thought of a musician to feature on my posters, I immediately thought of Jenean. There's probably no bigger icon of music in Grantsville than her family of talented musicians. It would be interesting to see how many piano students Jenean has inspired over the years. If you've been touched in some way by Jenean's love of music, feel free to leave a comment on this post or on the Facebook post.
Thank you Jenean, and to her daughters Lisa and Jennifer!
Jenean's Treasured Story
The best thing my mother did for me was she took me to concerts. I had to keep reminding myself to sit still, but I loved it. Decades later, after my mother had passed away, I was sitting in a concert with my daughter Kate, wishing my mom could be there with me. I turned and looked at Kate, then realized I still had that connection with my mother. My mother's love of music had been passed on through the generations.
***
My dad used to say all the time, "If I had a clarinet, I could have done something with it." Well, when Dad got his PhD from University of Utah at the age of 59, my sister and I wanted to get him a clarinet for a graduation present. We looked in the classifieds and at pawn shops. Then, a next-door neighbor said she had one and sold it to us for $35. We ran so fast next door to buy that instrument. When we took the clarinet out of the car trunk and gave it to Dad, he was so happy.
He told people that the clarinet added 10 years to his life. And it did. He loved it so much he got a nicer wood clarinet. Ten years after we got him the first clarinet, he was diagnosed with colon cancer. Before he passed away, he told me, "I want you to have that clarinet." I said I didn't play the clarinet (I played the piano and flute), but he insisted.
About 12 years later, Kate asked me what instrument she could play on the elementary school band. I took Dad's clarinet out and played a recording of Acker Bilk's "Stranger on the Shore." She said, "That's it. That's what I want to do."
I'm glad I kept that clarinet. Kate still plays the clarinet, Lisa went on to study saxophone in college, and Jennifer plays the flute.